New Micro Chip Drum option available for select Bandit Whole Tree Chippers
Bandit, chippers, Micro Chip, drum option, whole tree,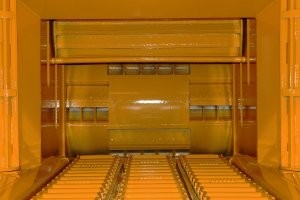 A specialized micro chip drum from Bandit Industries is now available for select Bandit whole tree chippers. The new drum design features double the knives found on a standard drum, delivering twice the cuts per rotation to produce wood chips as small as 3/16" in size. The micro chip drum can also be easily converted to a normal chipping configuration for standard sized chips, allowing users to conveniently produce several different chip sizes to serve multiple markets.
"Bandit chippers are already known for producing a great chip, but with biomass markets expanding rapidly around the world, we knew it was time to take an extra step for our customers," said Bandit Industries President Jerry Morey.
"Chip size certainly matters, but it usually comes at a cost of machine efficiency and performance. We set out to build a chipper that could make the best micro chip on the market without giving up the performance people expect from Bandit. And that's exactly what we have with our new micro chip drum."
The micro chip drum works in conjunction with Bandit's flow control option for the feed system, which fine-tunes the feed rate of the machine to achieve minimum chip size with maximum production and fuel efficiency. A new chip breaker system further enhances chip quality, serving to screen and break down oversize material exiting the drum. The end result is a specifically sized micro chip that is unmatched in consistency.
Chip throwing power is unaffected by the design changes. The Bandit micro chip drum and breaker system allow chips to exit the machine at high velocities without the need for a separate blower or chip accelerator.
The combination of aggressive feed systems, smooth chipping and strong chip throwing adds to the overall efficiency of Bandit's whole tree chippers using the micro chip drum. Compared to similar machines producing micro chips, Bandit whole tree chippers are averaging 33 percent better on fuel economy based on testing and customer feedback.
"Customers using our micro chip drum are consistently telling us just how hard the machine throws the chips, just like our standard whole tree chippers," said Morey. "They are also reporting fuel consumption rates of roughly three tons per gallon depending on the material, and throwing 40 to 50 loads per a set of knives isn't a problem. We're very pleased with the responses we've received on the micro chip drum. It's the ideal setup to serve any fuel wood market anywhere in the world."
The Bandit micro chip drum is an available option for the Model 2590, Model 3090 and Model 3590 whole tree chippers. The drum and accompanying systems can also be retrofitted to existing Bandit whole tree chippers.