Monster Industrial 7 SHRED grinder designed for large capacity processing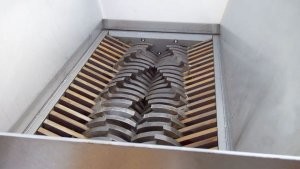 JWC Environmental's new Monster Industrial 7 SHRED grinder is built to fulfill the demands of product reduction for industrial applications including solid waste and recycling, and is specifically designed to process larger capacities faster and more efficiently.
The 7 SHRED uses stronger shafts which allow for greater torque and throughput. With a maxium horsepower of 74 kw (100 hp), the 7 SHRED is currently the largest series of particle shredders ever produced by JWCE and is designed to stand up to applications requiring product reduction of up to 42 m3/h (1,500 ft3/h). The company says this heavy-duty shredder is energy efficient, will ease through the toughest solids at a higher rate than macerators, and it ensures smooth, reliable grinding no matter what the debris.
The 7 SHRED is engineered to be horizontally mounted on a stand with a custom-designed hopper to allow feed of solids from a conveyor, sluice, or for manual feed. Produced in three cutting chamber sizes, from 762 mm through 1,270 mm (30 inches through 50 inches) and with 254 mm (10-inch) diameter cutters, the 7 SHRED offers a variety of cutter type and thickness options to best suit varying needs in processing solids such as rocks, wood, plastics, bone, food waste and textiles.
Among the unique features of the 7 SHRED series of grinders are the shaft seal options which can be supplied with an economical dry seal for applications using little to no water, or with JWCE's exclusive mechanical seals constructed of tungsten carbide, and rated for high liquids applications.