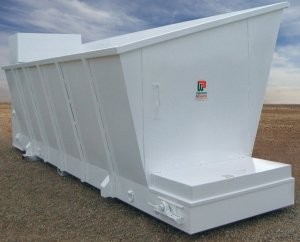 The Model MSB6-20-O Metering-Surge Bin from Warren & Baerg is ideal for use in biomass, waste and agricultural applications, allowing users the capability to load fibrous materials with a front-end loader.
The MSB6-20-O Metering-Surge Bin provides a consistent, positive and even flow of material for various applications. Units offer cost effective metering of shredded or ground wood, stover, grasses, paper, cardboard, plastics, carpet and other similar materials, from low rates to well over 100 tph.
The Metering-Surge Bin is built with straight side walls or can have a flared front and back walls for additional capacity and loading capacity. The flared back is gusseted and supported, and there are two doffers up front as well as a V-Level rake before the top doffer. Depending on the out-flow tonnage required, the floor drive motors are two horsepower or less, and 7.5 hp or less on each doffer.