RevX-E revised with eccentric magnetic rotor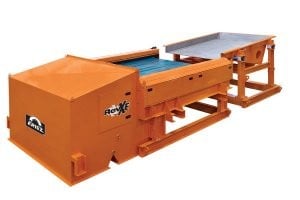 The RevX-E, Eriez' most recent addition to its extensive line of Eddy Current Separators, features a new eccentric magnetic rotor design. The new design brings greater recovery of valuable nonferrous metals in ASR, cullet, plastics, secondary metals and incineration ash applications.
RevX-E's eccentric rotor design features a smaller diameter magnetic rotor offset at the top of a larger outer shell. This allows the rotor's repelling force to focus in the area closest to that outer shell. Although the eccentric rotor radiates a more focused surface area for separation, Eriez says this new design reduces ferrous build-up by releasing it from the belt after it has passed through the field.
The change in rotor design and overall improvements in the RevX-E creates several advantages and benefits for this Eddy Current Separator. The rare earth rotor produces a powerful focused field, allowing greater recovery of nonferrous metal. The rotor position is adjustable for optimum separation, and the eccentric design reduces long-term wear from ferrous build-up. Additionally, the new eccentric rotor design is compact, requires less space and is easier to install in most plant operations. Plus, access panels are conveniently located for ease of service.
More from Metals Recycling
But we've been successfully sorting paper on the front end with optical sorters since 2005. Why have we been so successful? Because we know it's not JUST about the optical. We focus on your entire operation, so you make the most of your fiber line. Is your optical sorter living up to its potential? Call us at 203-967-1100 for a free system evaluation.
Traditionally, recyclers across Canada have sent a huge percentage of their recovered scrap metal to Hamilton, Ontario, or Pennsylvania in the U.S., via open-top rail cars and truck trailers. The scrap is then melted down and turned into new steel. This is still the case for much of our scrap steel, but recently the growing trend toward containerization has introduced new opportunities for efficient, cost-effective shipping of both non-ferrous and ferrous materials to overseas markets.