Mobirex MR 130 ZS EVO Impact Crusher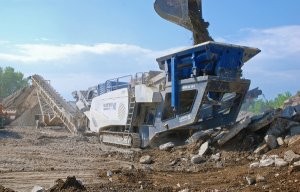 EVO impact crusher features unique independent pre-screen
Kleemann Mineral Technologies' new 450-tph Mobirex MR 130 ZS EVO impact crusher from Wirtgen America is ideally suited for processing recycled concrete aggregate (RCA) and reclaimed asphalt pavement (RAP), and virgin aggregates.
The EVO concept matches refinements for all individual components with a new material flow concept. Fitted with a unique independent pre-screen – which separates material prior to the crusher, allowing material to be screened either to produce a final product or remove unwanted contaminants – the new, highly efficient flow concept of EVO model impact crushers eliminates all restriction to the flow of the material throughout the entire plant.
With their significantly increased screening areas, EVO models deliver considerably higher overall tonnages of between 350 or 450 tph (MR 110 EVO and MR 130 EVO, respectively) than their predecessor models.