Cable-hoist allows for increased capacity with reduced weight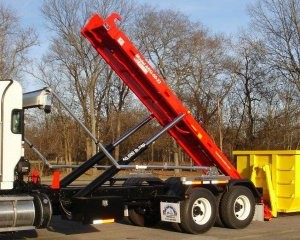 The patented design of the Palfinger American Roll-Off ARG-60-22 cable hoist allows for increased load capacity while reducing hoist weight and installation time. Its single reeving cylinder reduces weight and wear parts, while reducing cycle time, and fluid requirements are lessened with its 40 gallon hydraulic tank – both contributing to the ARG-60-22's increased load and payload capacities.
Using experienced in-house technicians, in addition to computer-aided designs and the latest CNC machines, assures the customer long equipment life. For instance, with the ARG-60-22, there are no springs to break or fail since the fixed front lock reduces moving parts while the fixed cable length reduces replacement time.
Palfinger American Roll-Off is part of the Palfinger North America Group and is a proven manufacturer of high quality and durable hooklifts, cable roll-offs and other container handling solutions.