Winkle launches OptiMag brand for entire line of lifting magnets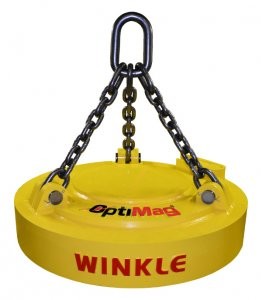 Winkle Industries recently introduced their complete line of OptiMag lifting magnets. According to President Joe Schatz, all Winkle magnets have been designed and manufactured to provide end-users with the lowest lift-to-weight ratio and for true 75 percent continuous operation.
"Winkle OptiMag magnets can achieve as much as 14 percent weight savings over competitive models, come complete with heavy-duty mechanical features and are offered in cast as well as fabricated steel cases equipped with high impact resistant manganese steel bottom plates," said Schatz.
Winkle Engineers have created a complete line-up of circular OptiMag magnets for the scrap, reclamation and railroad industries, from 24 to 96 inches in diameter, including grapple and drop ball magnets. The very extensive range allows end-users to choose the model and size best suited to maximize the productivity of their material handler.