High-intensity separation conveyor line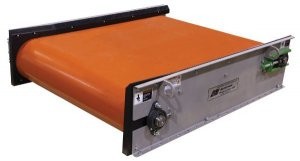 At this year's Waste Expo, Bunting Magnetics Co. introduced a new line of high-intensity separation conveyors.
Bunting Product Manager Don Suderman, discussing the new conveyor line, said: "These new separation conveyors are designed to provide extremely high magnetic fields, which enable removal of lightly magnetic tramp metal fines."
Suderman also said that high-intensity magnetic fields separate work-hardened 300 series stainless steel from the product stream, increasing separation effectiveness for medical waste, as well as automotive and electronic scrap recycling.
Optional vibratory feeder trays are available, and the conveyor's frames are constructed of 300 series stainless steel. Plus, tough, urethane endless belts maximize magnetic field exposure to material being conveyed. Bunting Magnetics Co.