Terex Finlay 883 Spaleck 3D Combi Flip-Flow screen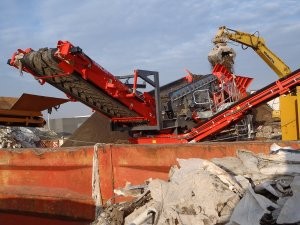 Introduced at bauma 2013, the new Terex Finlay 883 Spaleck 3D Combi Flip-Flow screen is the result of a joint partnership between Terex Finlay and Spaleck, a German-based manufacturer of static recycling screening technology. At the heart of this mobile plant is a two-deck high performance screenbox. Plus, a unique, stepped, 3D top deck design is combined with state-of-the-art flip flow technology on the bottom deck provides for processing of difficult materials and a high degree of screening accuracy.
The 883 Combi Flip-Flow screen is an all-in-one mobile solution for processing difficult waste, recycling, slag, C&D, shredded metal, wood, compost, mulch, ores, coal and soil. The 3D screen segments on the top deck feature an anti-blockage design and can be changed quickly and simply thanks to modular construction. The screen mats of the 3D Flip-Flow screen are secured with a friction wedge design and allow for a complete bottom deck change in approximately one hour.
At bauma, Terex Finlay also introduced the new J-1170 high performance primary mobile jaw crusher as well as the direct drive horizontal I-100 Impact Crusher. The J-1170 is built around Terex' 1,100 mm x 700 mm (44-inch x 28-inch) jaw crusher, which the company says has a proven track record in recycling as well as in aggregate production, and the unit's jaw chamber is available with optional hydraulic release, an excellent feature when crushing construction and demolition debris.
The new, tracked I-100 Impact Crusher features variable speed designed to provide operators very high levels of production in recycling applications, and features a robust and proven Terex chamber that gives excellent reduction ratios and high consistency of product shape. The Terex Finlay I-100 also features an advanced electronic control system that monitors and controls the speed of the rotor and regulates the heavy-duty vibrating feeder (VGF) with integrated pre-screen to maintain a consistent feed of material into the impact chamber.
More from C&D Recycling
Single-Ram and II-Ram High-Capacity Balers
At Machinex, we've been designing sorting systems for over 35 years, so we know how essential it is for MRF operators to have a baler they can trust and not worry about its operational reliability. This is why we design and manufacture reliable single-ram and II-ram high-capacity balers to specifically help optimize their operations.
Watch the video of our expert who presents the main features of Machinex balers delivering these important benefits:
Easy & accessible maintenance
Reduced maintenance & bale handling costs
Energy savings
Optimal bale density
For C&D recyclers, waste haulers, demolition contractors and landfills, there is a growing opportunity to profit from rethinking processes. Although every operation is different, by streamlining the front end of the C&D operation processes with purpose-built technologies, recyclers can tap into new end markets, accommodate higher material volumes, stay ahead of regulatory restrictions, increase recovery rates and add commodity revenue, while decreasing labor and other costs.
Download the new eBook to learn about:
Finding opportunities in the alternative to landfilling C&D
How facilities can increase their profits from C&D
Using the right C&D processing technology in the right locations