Windrow Manager 3.0 Compost Management Software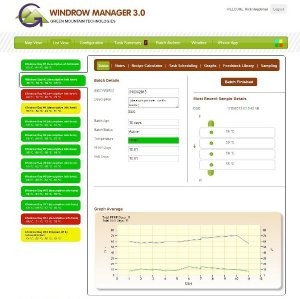 Windrow Manager 3.0 is Green Mountain Technologies' latest version of their PC-based Windrow Manager software for managing and documenting the composting process. This technology can now be hosted in the Cloud and users can use an iPhone or iPad, along with Green Mountain's specialized app for data sampling in the field.
The web control panel is accessible from anywhere, and since it's hosted in the Cloud, backups are not a concern. Windrow Manager 3.0 provides users access to Facility Map on Google Earth and allows users to layout a facility and perform data sampling, and then upload data to a Cloud-based web site where it can be stored, shared and graphed using a secure Web Portal.
According to Green Mountain President, Michael Bryan-Brown, this software is designed to help provide "the big picture" of what is happening at a composting facility.
"Temperature and oxygen levels may vary throughout piles and low levels may generate odours," says Bryan-Brown. "From carbon to nitrogen ratio, to turning and irrigating, everything has to be right to make good compost. Windrow Manager 3.0 brings all this information together so you can see what is happening from a visual perspective."Green Mountain Technologies