Hybrid metal building open web rafter system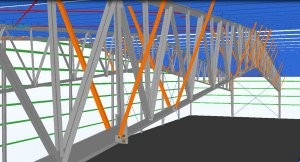 Nucor Building Systems (NBS), a leading manufacturer of custom-engineered metal building systems, has announced the expansion of their framing system product line to include Nucor TrussFrame, a hybrid metal building open web rafter system.
Nucor TrussFrame combines the stability of a rigid frame system with the convenience and architectural aesthetic of open web trusses, creating a system that provides maximum design flexibility with unobstructed, column-free interior space in excess of 250 feet.
"NBS is excited to provide a quality open web solution that will greatly benefit our Builders and the customers they serve," said Jeff Carmean, Nucor Building Systems President. "TrussFrame is a unique open web rafter product providing a spacious interior aesthetic that will allow our Builders to expand their capabilities to better serve new markets. This is a superior framing option that is extremely efficient and economical, and will solve numerous building challenges."
Unlike solid web framing systems, TrussFrame allows HVAC systems, electrical wiring, and sprinkler systems to be incorporated into the open trusses. This feature can reduce the required building height and increase overall efficiency. Available in both gable and single slope Clearspan framing, the system is compatible with all Nucor Roof Systems. TrussFrame is well-suited for a range of building end-uses including recycling and waste, retail, manufacturing plants, recreational facilities, aircraft hangers, warehouses, arenas and stadiums.
For more information, please visit: www.nucorbuildingsystems.com/trussframe/.
Nucor Building Systems is a leading manufacturer of metal building systems for industrial, commercial, warehouse and a range of markets. The authorized Nucor Builder network consists of more than 1,000 design-build contractors in the US and Canada. NBS began in 1987 with the construction of the first Nucor steel building systems division in Waterloo, Indiana. As a result of continued success and focus on long-term growth, Nucor Building Systems now has four manufacturing operations located in Waterloo, Indiana, Swansea, South Carolina, Terrell, Texas, and Brigham City, Utah. NBS also has a sales office in Lancaster, Pennsylvania., serving the Northeast. Nucor Building Systems is a Nucor Company, which is the largest producer of steel in the U.S.