Impact V Car Crusher is a portable, one-man operation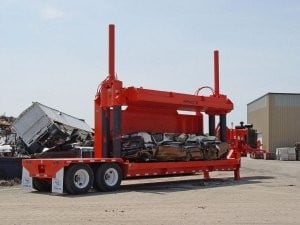 Al-jon's Impact V Car Crusher is designed as a portable, one-man operation that can crush and stack up to five cars at a time for loading. Operators simply raise the cylinder cases, lock them into position (with a simple key-way design) and the Impact V is ready to work. This unique design reduces total set-up time to less than one minute, and the raised-cylinder configuration gives the cylinders more power by adding downward force to crush material.
The Impact V Car Crusher features manual or remote radio control; durable, hydraulic landing gear; an air compressor; an oil recovery system; an exclusive cylinder locking system; and overload sensitivity.
These units also feature air brakes, compensating suspension and automatic cycling, as well as a Quad-Post guide system which provides equal distribution of the crushing force to the four corners of the crushing lid. The crushing lid is connected to four sliding guides by heavy-duty pivot lugs mounted on each corner. The stress is distributed equally across the guide posts, sliding guides and pivot lugs, giving the Impact V greater stability and durability.
For strength and light weight, over 25 percent of the Impact V's 26,173 kg (57,700 pounds) are constructed out of high strength steel, including the back wall, which provides users with a solid backboard for positioning vehicles during loading and unloading.