TOMRA Introduces Glass Crush Option for its SmartStop RVM
New feature will meet the needs of beverage distributors that require crushed glass returns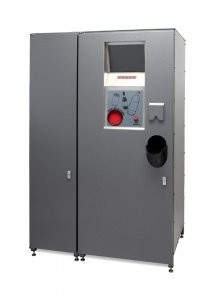 TOMRA North America, a unit of TOMRA Collection Solutions today announced that its SmartStop reverse vending machine (RVM) – a machine that can handle glass, PET and aluminum – is now offering a glass crush option, as well as firm drop and soft drop.
The machine has the capacity to store approximately 200 crushed glass bottles. TOMRA added the glass crush capability to meet the needs of its customers; in some US regions, retailers and recycling facilities are required to return glass crushed.
The SmartStop is a small-footprint RVM that is ideal for retailers or recycling centers that have limited space, but still require a machine that can handle glass bottles, PET bottles and aluminum cans. It can accept 20 containers per minute. In addition to glass, the SmartStop also crushes both PET and aluminum cans. The SmartStop runs on standard 120VAC, single-phase electricity, with a dedicated line, and is available in an ADA-compliant version.
Recently, AB Orwak announced the change of its legal company name to Tomra Compaction AB. Tomra Compaction says the reasoning has to do with their ongoing brand transformation within the TOMRA Group. For almost a year, Orwak has marketed itself under the brand Tomra Compaction and the company says their new name does not bring about any significant changes in practice. The company is the same legal entity as before, operating under the same organizational number and all contact information besides the company name remains the same.