Wildcat TR521 trommel available with Tier 4i engine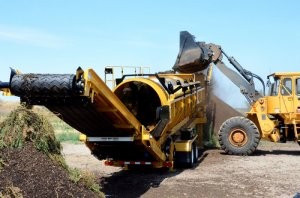 The Wildcat TR521 trommel screen is now available with a Tier 4i engine and additional features designed to process mulch and compost, and for pre-screening green waste material with high moisture content. An 82.1-kW (110-horsepower) Tier 4i/Stage IIIB Cummins engine increases the power delivered to the TR521 by 10 percent compared to the previous model, and meets all U.S., Canadian and European emission regulations. The additional horsepower allows for processing of heavy, wet material with more consistent results and powers the auxiliary circuit to run ancillary machines.
The TR521 has been designed for intuitive operation, using Vermeer's ACS control system. Units can be controlled through either a Vermeer DP10 display, which is mounted on a control panel, or with a handheld transceiver remote. This allows the operator to have complete control of the trommel whether standing nearby or operating from a loader. These trommels also now include quick-change screens, designed for faster and simpler changes. This is especially important when processing a wide range of materials that require different screen sizes. Screen panels are tensioned to add rigidity and allow the use of a smaller gauge or diameter wire. Using smaller gauge wire increases the screening area, resulting in a larger open area, and when working with wet material, there is more area for the material to flow through on a tensioned screen panel. A choice of screen styles includes either standard steel or stainless panels.
With a large 3.8-cubic-metre (5-cubic-yard) hopper, the TR521 is capable of producing up to 114.7 cubic metres (150 cubic yards) per hour of consistent, quality material. A low-height, 2.9-metre (9.5-inch) hopper infeed helps to decrease loading cycles and eliminates the need for loading ramps for most wheel loaders. Additional features include: a large throat opening from the hopper into the drum for reduced material bridging and buildup; square lift bars inside the drum that enable more material to be processed at a slower speed; improved maintenance; and four independent stabilizer legs, with operator controls, side ladder and an upper walkway for added safety.

Company info
Related products