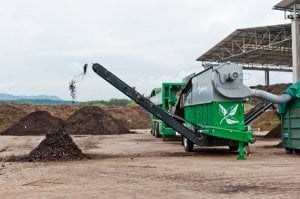 The Stonefex hybrid mobile stone separator was shown for the first time in North America at the US Composting Council show in Orlando, this past January (2013). This machine is compatible with most available mobile screening units and is engineered to remove 90 percent of stones and inert items from wood waste and other biomass. It uses a patented system of pressure and suction blowers that generates precise air flow in an expansion chamber to remove stones and heavy objects from material.
The Stonefex is a hybrid machine that can use both electric or diesel power, is available in a single-axle trailer configuration, is compatible with most commercially available mobile screening units, and provides throughput up to 100 cubic metres per hour. The outcome is a biomass fuel nearly free of stones which can be sold at a higher price. Furthermore, according to Komptech, fractions that were previously unusable due to their high amount of stones can now be processed into fuel.
Input material is generally a usable biofuel fraction with a particle size from 3/8-inch up to 4-inch, including shredded rootstocks, woody green cuttings (pre-shredded with or without composting phase), screen residue from compost, or forestry waste chips.
Company info
Related products