Canadian Waste & Recycling Expo exhibit floor sold out
Show set for November 9-10 in Montreal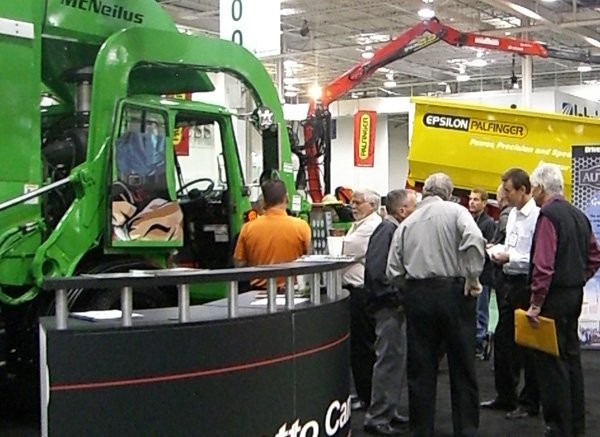 Canada's only trade event serving the waste, recycling and public works markets, the Canadian Waste & Recycling Expo's (CWRE) 14th edition will take place in Montreal, Quebec, for the first time, November 9 – 10 at the Palais de Congrés de Montréal.
Visit Recycling Product News this year at booth # 1423.
Organizer Messe Frankfurt, Inc. is very pleased that the exhibit floor is sold out for the first time in show history, and pre-registration for attendees is also up compared to previous years. The 2011 edition of CWRE will feature more than 190+ exhibiting companies and thousands of attendees from Quebec, across Canada and the United States.
"We are thrilled at the excitement being generated by both the exhibiting companies as well as the attendees about the show being held in Montreal the very first time," states Arnie Gess, Consultant for Messe Frankfurt, Inc. "We are experiencing the build-up to the most anticipated Canadian Waste & Recycling Expo ever this November."
Exhibiting companies are booked from North America, Europe and Asia, and include: BFI Canada, Busch Systems International, Curotto Can, DURABAC, Ecoloxia Group Environnemental, J.Y. Voghel, Jecc Mécanique, Labrie, Les entrepots De Metaux, London Machinery, Machinex Recycling Services, Mack Canada, Molok North America, New Way Trucks, Norseman Environmental Products, Palfinger North America Group, Peterbuilt of Canada, Plastique Rotek, Precision Waste Systems, Schaefer Systems International, Toter/Wastequip, Universal Handling Equipment Company, Western Weld / Mifab Manufacturing, and many other leading companies that provide equipment, products and services to Canada's waste management & recycling industry.
Additionally, at this year's show, the 2nd Annual Canadian Waste Sector Symposium (CWSS) will be held in conjunction with CWRE, at the Hyatt Regency Montreal, Quebec, Monday, November 7th through Wednesday, November 9th.
CWSS is produced by the Ontario Waste Management Association with support from sponsor partners Conseil des Entreprises de Services Environnementaux (C.E.S.E.) and RÉSEAU environnement. CWSS is a national focal point for waste management and waste managers in the public & private sectors across Canada and from around the world. It will serve as a forum for the discussion of waste sector policy and technology, topics including Hazardous Waste Management, Organics Waste Management, Green Energy, Green Management of Waste, Waste Disposal and Transfer and more. To register and for symposium details visit www.canwastesectorsymposium.ca
Other special events associated with the 2011 Canadian Waste & Recycling Expo in Montreal include:
• EnviroLys 2011, presented by the Conseil des Entreprises de Services Environnementaux (CESE) on Wednesday November 9 at the Hyatt Regency Hotel in downtown Montreal. This event will include an evening of networking, dinner and cocktails to celebrate Envirolys 2011. The EnviroLys awards recognize the excellence of the environmental industry. It honours the companies that contribute everyday to improve the environment and the economy. In this occasion, all major Quebec environmental services industry players will be gathered to celebrate the initiative and innovation in preserving the environment. For more information including ordering dinner tickets, visit www.cese.ca
•Compost Council of Canada will hold their annual CWRE Luncheon at the Palais des Congrès de Montréal on Thursday November 10. Dr. Lambert Otten will give a presentation – Canada's Compost Infrastructure Development: A Technical Perspective. www.compost.org
According to Messe Frankfurt, the CWRE show is designed for waste and recycling professionals representing companies in sectors including: collection, hauling, disposal, C&D, facility / site operation, federal, provincial and municipal government, landfill management & operations, recycling, public works, airport & road management, ICI, transportation & fleet maintenance, property management, engineering, waste management, and wastewater.
Messe Frankfurt says this event not only offers the opportunity to purchase the latest innovations in the market, it also affords its attendees the ability to increase their knowledge about the marketplace and current legislation.
The show floor will feature a host of dynamic new products and services in the following categories:
•Composting Systems /Components •Construction / Demolition/ Waste & Scrap Recycling
•Incineration / Gasification / Thermal Technologies
•Infrastructure Redevelopment / Public Works
•Landfill Operations / Systems
•MRFs / Transfer Stations
•Storage / Containers
•Recycling Equipment / Recycling Services
•Trucks & Transportation / Heavy Equipment
•Waste Treatment / Disposal
•Software / Technology / Education
Show Hours are 10 am to 4pm, Wednesday, November 9th and Thursday, November 10th. For more information and to register, visit www.cwre.ca.
The 2010 Canadian Waste & Recycling in Toronto hosted 206 exhibitors from Canada, the U.S., China and Italy in 9,290 gross square meters. The show welcomed 1,690 individual buyers from 11 countries, and buyer attendance at the 2010 event grew 24% in comparison with the 2008 Toronto event, signaling strong growth and interest in the waste and recycling markets.
"As Canada's premier waste, recycling and public works show, we strive to showcase the best the industry has to offer," said Kristen Woodburn, show director with Messe Frankfurt Inc.
Company info
3200 Windy Hill Road, Suite 500 West
Atlanta, GA
US, 30339

Website:
cwre.ca
Read more