Lokotrack ST2.4 mobile screen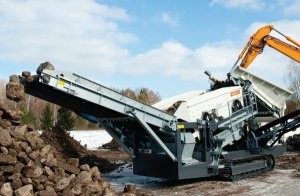 Metso's newest mobile screen from the proven Lokotrack series, the Lokotrack ST2.4, combines high screening capacity with exceptionally low fuel consumption through the use of an optimized hydraulic design and state-of-the-art control system. The Lokotrack ST2.4 is well suited for accurate classifying of any feed materials: from fine classifying and processing of recyclable materials and sands, to pre-screening of the coarsest gravel. With an efficient, two-stage screen, users can produce three clean end product sizes in one process.
The ST2.4 employs smart material flow and the use of first-class components, and with its low fuel consumption and operating costs, these machines deliver the lowest cost per ton of any mobile screen in its size class, according to Metso.
"We believe that the Lokotrack ST2.4 sets a new standard for real mobility," says Kimmo Anttila, Metso Product Manager for mobile screens. "Our new screen is thoroughly designed for fast setup from trailer to screening. All the conveyors are folded hydraulically and secured mechanically. You just set the screen angle, lift the feeder up and start screening."