Horizontal grinder with feed roller assembly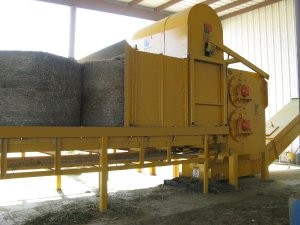 Ideal for biomass grinding applications, the electric-powered model G278-30-400 grinder with feed roller assembly is the largest, and latest generation of Warren & Baerg's high production, virtually dust-free bale grinders. According to the company, with the new feed roller assembly system, these units can effectively process bales in excess of 20 tons per hour, in a much cleaner environment than with a traditional tub grinder. The feed roller assembly eliminates material slugs, amp draw spikes and increases production output through optimum use of power.
These systems effectively reduce or eliminate dust problems as well as reduce material losses. The grinder can be either a high-volume pre-grinder or a one-step single grinder, and units provide easy mechanical loading. Complete systems consists of a bale feed conveyor with hood, feed roller assembly, grinder, screens, and either an air discharge chute or takeaway conveyor system.