Customizable fabric buildings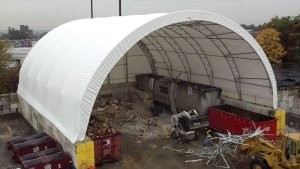 ClearSpan Fabric Structures provide energy-efficient, economical structures ideal for composting facilities, recycling centres and many other operations in solid waste management. State-of-the-art ClearSpan Hercules Truss Arch Buildings feature abundant natural light and provide the perfect controlled environment for composting processes.
The height and wide open space of Hercules Truss Arch Buildings allow easy access for equipment such as skid steers, conveyors, turning machines and pay loaders. Their triple-galvanized steel frames are extremely durable, and hold up well in corrosive environments, while their all-weather fabric covers protect compost from the rain, reducing run-off.
Every Hercules Truss Arch Building is custom engineered to fit the requirements of the specific location, such as snow load or foundation type. With minimal foundation requirements, the structures can be permanent or temporary, and are easy to relocate.