Heavy-duty P Series orange peel grapples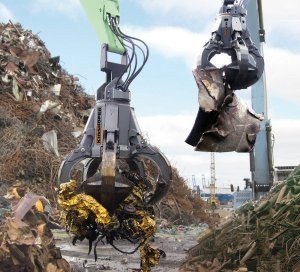 Kinshofer`s latest P-Grabs (P Series orange peel grapples) are now available in a heavy-duty version: designated P30VHD, P40VHD, and P51VHD models. These attachments have larger, more robust, fully integrated rotation with an extra sturdy slewing ring and internal hoses, which guarantees optimum force transmission and prevents hose break. Plus, an integrated pressure relief valve protects against overcharge. The new heavy-duty models are also swivel and bevel sealed.
With two different types of 360° rotation, maximum closing force (up to 8,140 lbf) and optimal weight to performance ratio in daily use, P-Series orange peel grapples were engineered for the handling of bulky materials and are ideal for scrap handling. Units are available with 4 or 5 tines, and 450 litres / 0.59 c.y. volume for the handling of bulky scrap and other materials, for excavators from 16t / 35,200 lbs up to 22t / 48,400 lbs operating weight, or in the heavy-duty version, for excavators from 26t / 57,200 lbs up to 50t / 110,000 lbs operating weight and with up to 1,500 litres / 1.96 c.y. volume. Hydraulic cylinders are fitted with replaceable piston rod protection and are hydraulically end cushioned, and reinforced tines are made of wear-resistant steel HB 400.
Other key features of P Series orange peel grapples include: weld-on tips made of highly resistant forged and tempered steel HB 500; accurate fittings that eliminate tine distorsion, and solid end stops that open and close; reinforced bolts, large bearing surface for bolts, and specially coated, solid steel bushings.