Hydraulic-free, industrial, electro-mechanical compactors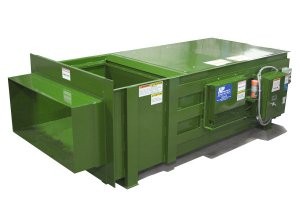 SP Industries' has introduced its first line of industrial, electro-mechanical compactors which are completely absent of hydraulic fluid. These environmentally-friendly machines utilize a solid steel screw shaft powered by an electric motor that pushes the ram through the compaction chamber, eliminating the potential for hydraulic fluid spills in and around facilities.
The EM Series incorporates a 24-volt control system that allows for safer operation and a built-in grease system automatically lubricates the shaft. These units free up floor space as well by removing the need for bulky power units used with traditional compactors, while boasting multi-cycle programming and adjustable ram force pressure settings. Finally, the motor remains protected by a soft-start system and full-load indicator to prevent surges or overamping.
As with all SP equipment, the EM Series is completely customizable and can be integrated into almost any system they manufacture including their specialty dumpers, chutes and decks.