Multi-camera safety system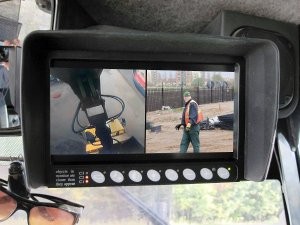 A new multi-camera operator vision system from RMT Equipment is "jobsite-rated" to increase safe operation in the largest heavy-duty equipment operations. TRACK-VISION systems are equipped to connect up to four cameras to a single monitor.
According to Marc Lefebvre, Sales Manager for RMT, "Installing a four-camera system on your crushing plant is as easy as setting up one backup camera. You just run the insulated cable from the camera and plug it in."
Lefebvre says that safety-conscious equipment owners are now equipping more machines with multiple cameras to bring rear and side views of the jobsite into the cab, including "tool views" with cameras mounted all around the machine, or on a primary or secondary crusher or conveyor system.
TRACK-VISION monitors offer operators a choice of displays for the images from their cameras. Using a "quad box option'', display modes include a fixed view of a single selected camera, or an auto-mode which rotates through all cameras in sequence, or a split screen view which displays all camera images together.
The standard high resolution monitor is seven inches wide, an optional 10-inch monitor is available, and All TRACK-VISION monitors are compatible with both 12V and 24V electrical systems. Along with excavators, Lefebvre especially recommends boom cameras for demolition equipment, where the operator may reach over and behind a wall when equipped with either a breaker or shear.
More from C&D Recycling
Single-Ram and II-Ram High-Capacity Balers
At Machinex, we've been designing sorting systems for over 35 years, so we know how essential it is for MRF operators to have a baler they can trust and not worry about its operational reliability. This is why we design and manufacture reliable single-ram and II-ram high-capacity balers to specifically help optimize their operations.
Watch the video of our expert who presents the main features of Machinex balers delivering these important benefits:
Easy & accessible maintenance
Reduced maintenance & bale handling costs
Energy savings
Optimal bale density
For C&D recyclers, waste haulers, demolition contractors and landfills, there is a growing opportunity to profit from rethinking processes. Although every operation is different, by streamlining the front end of the C&D operation processes with purpose-built technologies, recyclers can tap into new end markets, accommodate higher material volumes, stay ahead of regulatory restrictions, increase recovery rates and add commodity revenue, while decreasing labor and other costs.
Download the new eBook to learn about:
Finding opportunities in the alternative to landfilling C&D
How facilities can increase their profits from C&D
Using the right C&D processing technology in the right locations