TS-516 High-Capacity Scalper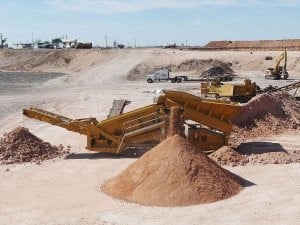 IROCK has introduced their new TS-516 High Capacity Scalper. This highly durable scalper, one of five tracked screener units in IROCK's lineup, is engineered to improve productivity in a range of applications with greater hopper capacity, larger screens and a wider, oversize conveyor.
IROCK designed the TS-516 so it can be used in a primary crusher circuit for materials such as C&D waste and recycling, as well as iron ore, aggregates, coal and heavy rock. At the same time, the machine is versatile enough to handle sticky clay and topsoil. It is powered by a 129-horsepower Caterpillar C4.4 engine and is capable of processing materials at a rate of up to 570 TPH.
In terms of transportation, the equipment can be folded and loaded onto a truck or trailer, so it's easy to move from site to site. The TS-516 has an 11.7-cubic-yard hopper, and a total of 157 square feet of screening area, using a 16-foot by 5-foot top deck and a 15-foot 4-inch by 5-foot bottom deck. This design allows users to produce and sort products in up to three different sizes, and the decks can be interchanged so customers have more control over end product size.