Steel-framed, fabric covered buildings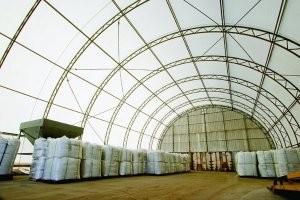 The F-series of commercial, steel-framed, fabric covered buildings from Norseman is available in 90- to 130-foot widths. An I-beam leg provides flexibility in sidewall height, allowing for various overhead door and side entrance options, and a straight sidewall design allows users to utilize complete square footage and store oversized items and materials directly against walls.
The T-series buildings are modular, use a high side wall design, are highly corrosion-resistant, and are manufactured from the highest quality heavy-gauge, square tube steel. The T-Series buildings are available in 40 to 80 foot widths, to any length. They provide tremendous strength and durability in a clear-span space and are designed to meet the needs of large industrial and commercial operations. The high side wall design allows for highly efficient use of floor space and the modular design allows you to extend the building at any time to meet your changing needs. Designed for permanent use, they can also be moved and reassembled where they are needed most.
The A-Series building line is designed for storage and light industrial use where an economical building solution is important. The A-series building, available in 30 to 60 foot widths, to any length The 6' and 8' leg options allow for a variety of overhead door designs, increased storage capacity and the ability to position racking against a side wall. Deeper truss depth results in fewer trusses, therefore reducing labor, installation and shipping costs.