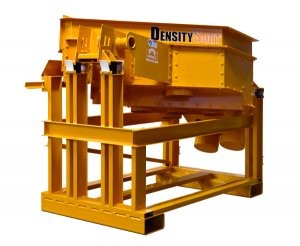 The DensitySort Air Table from Eriez quickly and efficiently sorts nonferrous "fines" product into two fractions: Twitch (light fraction) and Zorba (heavy fraction), which improves their value.
"Nonferrous fines, or Zorba, from automobile shredders typically contain eight to 12 percent heavy metals," explains Mike Shattuck, Eriez' Product Manager - Recycling Equipment. "By further separating these materials, processors can increase their fines value by nearly 20 percent."
Eriez' DensitySort Air Table uses air, vibration and slope to separate the fines fraction. Unlike other density separators, the DensitySort does not require a media base such as sand, water or filtration to achieve a separation. As product is fed at the high point of the table's slope, its own specific mass directs the product to the low or high side of the table, providing an upgraded high grade aluminum product, (twitch), as well as a heavy product containing nearly 80 percent heavy metals by weight.