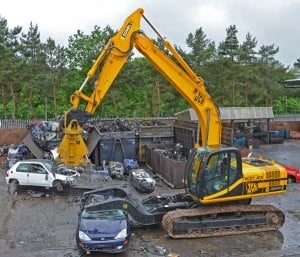 The Builtrite Auto Dismantling System is designed to quickly and efficiently dismantle autos, readying them for a car crusher or shredder. The Hold Down Arms on this system are mounted directly to the excavator's main frame, operate off the undercarriage drive circuit, and include a pair of large bore, high pressure cylinders, capable of applying enough force to crush and hold automobiles in place.
The Auto Dismantling Grapple features a wide opening and 360-degree continuous rotation while the dexterity of the jaws allows operators to perform even the most precise maneuvers. These units make easy and quick work of pulling engines, radiators, wiring harnesses, heater cores, etc., are made using high tensile steel throughout, and are designed for long life and minimal maintenance.
Custom-design configurations include: 360-degree heavy-duty rotation using a turntable bearing; hydraulic swivel and high torque motor; abrasion resistant material and hard facing used on the tine tips; an oversized, hardened cylinder and pivot pins; and easily accessible, well protected grease zerks.