Winkle adds in-motion weighing systems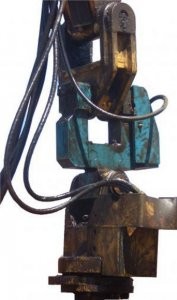 Expanding on its range of aftermarket distribution products, Winkle Industries now represents the Tech Weigh ScrapMaster line of in-motion weighing systems for magnets and grapples.
"The Tech Weigh system... complements our own line of custom lifting magnets, and moves us another step closer to being a single source supplier for all material handling applications," says Winkle President, Joe Schatz, who announced the new distribution agreement.
Technical Weighing Services Inc., based in Griffith, Indiana, manufactures a complete system of Tech Weigh onboard load weighing systems for cranes, lifting magnets and scrap grapples. Tech Weigh load cells simply replace the lifting yoke on cranes and scrap-handling equipment to report load weights while loading operations are in motion.
Software supplied with the system allows operators to record weights per-lift, per-load and according to material grade or blend. Load data is transmitted to LED displays and/or printers in the crane cab or to a remote location. Tech Weigh load cells are sized to handle loads from 1,000 to 100,000 pounds with weights accurate to within one percent.
In addition, Winkle now represents Tech Weigh WeighMaster truck scales, which also utilize load cell technology, with capacities up to 100 tons.