Portable colouring unit for entry-level mulch producers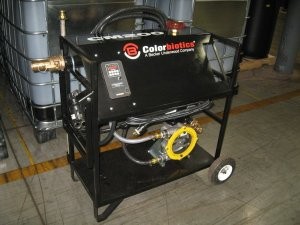 The CM200 single-pump colourant injection system is a portable colouring unit in a cart configuration. An ideal option for mulch producers that are expanding their product offerings to include colour-enhanced mulch, units are designed for convenience, efficiency and quality. Equipped with peristaltic pump and 1/3-horsepower motor, the CM200 easily attaches to any grinder, trommel screen or other processing equipment for optimal colourant distribution.
"The user-friendly portable CM200 colorant pumping system has a number of convenient features that make it among the most efficient and accurate portable systems on the market today," said Kent Rotert, director of marketing and sales with Colorbiotics.
"The CM200 is easy to transport and setup is easy. The single-pump injection system is also very accurate. It's a cost-effective way for entry-level mulch producers to expand into colour-enhanced mulch."