JEST Recycler sorts by density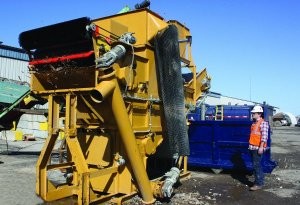 The JEST C&D Recycler sorts materials based on density, and is capable of processing and separating approximately 80 tons per hour of up to five materials, including glass, wood, plastic, stone, and other waste materials.
Models include the 1500 and 2000, are custom-built to fit an operation, and work well as part of a larger C&D processing operation, or as an individual, compact, mobile unit. The JEST recycler uses a simple design, and sorts using a screen, air separation and a floating system.
Units are low maintenance and include a set of spare screens, whole brushes and a belt system. Other features include: an external bearing for maintenance; electronic speed variations; a hook arm system for easy transport; automatic self-cleaning; and low water and electrical consumption.