M&J EtaFineShred 6500 shredder features unique, easy access housing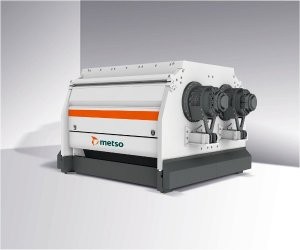 In 2011 Metso Recycling took over the Swiss company Holzmag, who's technology was transferred to Metso's M&J product line. The first resulting product is the powerful, two-rotor M&J EtaFineShred 6500 – launched at IFAT 2012. Metso's newly acquired technologies include patents for multi-edge rotors, knives and knife fittings.
"Through integration of the superior Holzmag technology in our competence centre for waste recycling at M&J we have improved the machine significantly. The focus was placed on serviceability and easy access to the machine when re-designing the basic principle. The result is a unique housing which can be split for maintenance or service purposes. Full access to the main knives is ensured and downtime is reduced to an absolute minimum," says Kjeld Nielsen, President, Metso Recycling.
Due to the patented shaft and cutting technology from Holzmag and the variable screen openings, the M&J EtaFineShred series is able to deliver a homogenous output quality starting at 10 mm. At the same time, no heat generation will occur and dust emissions are kept to an absolute minimum.
Company info
Related products