700 series crane models added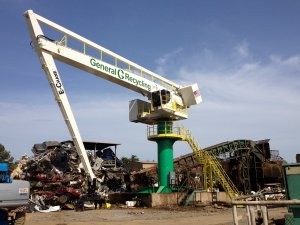 E-Crane's 700 series 4290 and 4317 models share the same reliable and proven component platforms as the company's proven 4248 and 4264 models, but are able to obtain longer outreach. The 4290 model has a duty cycle capacity of 5.5 metric tons and an outreach of 29 metres, while the 4317 model has a duty cycle capacity of 5.3 metric tons and an outreach of 32 metres.
According to E-Crane, the performance of their 700 Series is well proven in the scrap handling industry and in small river port applications. The company also says E-Cranes are built for 24/7 duty cycle operation and provide results that material handlers can't match. These new models are competitively priced, with short delivery time and easy shipping. They are engineered to be fast and easy to set-up, simple to maintain, and easy to operate with straightforward hydraulic controls.
A 700 Series, Model 4264 E-Crane was installed at Nucor Steel Jackson in Flowood, Mississippi (2012) for the purpose of feeding auto-bodies into a shredder. The new E-Crane replaced an old Seram crane, and has a duty cycle capacity of six U.S. tons (5.5 metric tons) and an outreach of 86 feet (26 metres).
Equipped with a Young 3x2 bypass grapple, E-Crane says Nucor's 4264 is capable of feeding two to three auto-bodies into the shredder per cycle. The installation began during the week of June 18 and included the tear-down of the old Seram crane as well as the installation of the new E-Crane. Installation was complete July 2nd and the 4264 became operational shortly thereafter.