MagGrapples offered in 11 models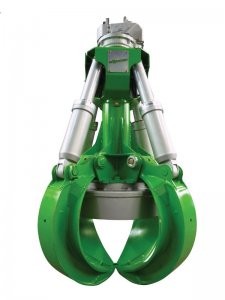 Sennebogen MagGrapples are combination grapples and magnets offered in 11 models from 0.75 yds3 to 1.5 yds3, with corresponding magnets available in 30-, 36-, 40- and 44-inch diameters.
Each MagGrapple features 360-degree rotation and is designed to accept both high radial and axial loads, which make it ideal to withstand the rigours of both pushing and pulling in recycling operations. Spiral steel hose guards help prevent hose damage and cylinders are protected with removable guards for ease of service.
Additionally, for ongoing productivity the tines are protected against impacts on the outside of the jaw with a pressure release when the grapple is open.