Colour camera sorting system for small particle applications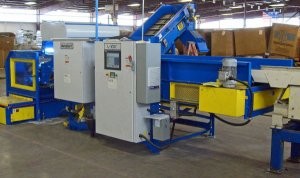 MSS Inc. recently introduced the L-VIS, a high-resolution colour camera sorting system for small particle applications such as shredded and granulated materials. The L-VIS is designed for colour-sorting applications, including the extraction of high-value commodities (printed circuit boards, copper, etc.) from shredded electronic scrap. It provides up to 98 percent separation accuracy and is available with a proprietary shape identification software algorithm specifically designed for sorting wires.
The L-VIS can also automatically sort plastic granulates, pellets and flakes by colour. Even the smallest particles can be accurately identified and sorted. A corresponding high-resolution air jet array provides very fast, accurate ejection, and an all-metal detector for ferrous, non-ferrous and stainless steel can be added for further sorting capability.
The L-VIS can be easily configured by operators via a touchscreen interface and is offered in three sizes: 800 mm (32 inches), 1,200 mm (48 inches) and 1,600 mm (64 inches).
Company info
300 Oceanside Drive
Nashville, TN
US, 37204

Website:
magsep.com
Phone number:
615-781-2669
Read more