Mogensen sizer technology updated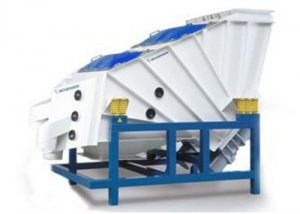 ALMO Process Technology recently announced improved features on the Mogensen sizer machine. Output ports have been redesigned for material flow optimization and feature larger inspection ports and fixed fastenings. The vibration system provides increased capacity through prevention of plugged mesh openings and is designed to prevent vibration from being transmitted to the plant structure.
The unit's screen tensioning system relies on a simplified concept to ensure correct tension to the screens, and results in reduced maintenance time and an improved ability to withstand dust. Newly redesigned dust covers are ergonomic and easy to handle, and quick acting locks eliminate assembly time. Plus, the robust cover design is scratch resistant and withstands heat of 185-degrees F.
Company info