Enhancements added to Vermeer HG6000TX grinder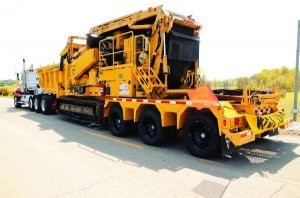 Vermeer has enhanced its popular HG6000TX track undercarriage horizontal grinder with a new dolly transport system, longer load-out conveyor and Tier 4i/Stage IIIB engine.
The dolly transport system, or DT6, replaces the need for a drop-deck trailer. To transport, operators track the grinder onto the dolly using a radio remote control. By activating two toggle switches, four hydraulically driven pins secure the machine to the dolly, and four indicator lights show when the pins are fully extended. The stabilizers can then be extended to lift the grinder fifth wheel plate to match the tractor plate height. The stabilizers also help with pin alignment, reducing the need to be on level ground when attaching the dolly. Once electric and brake connections are made and proper markings have been applied, the grinder and dolly are ready for transport.
The HG6000TX' longer load-out conveyor, which can be controlled by the system's remote, allows for loading over the side of an open-top trailer. The ground speed of the HG6000TX has also been increased, and units are powered by a 755-horsepower (563 kW) Caterpillar C18 Tier 4i/Stage IIIB engine, providing a 20 percent increase in horsepower over the earlier 630-horsepower Tier 3 platform.