Bano's first mobile system – the MAC-S 28-70 HYDRO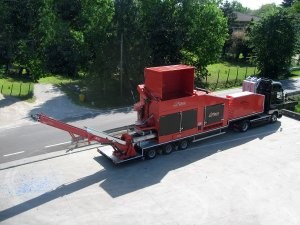 Engineered for truck mounting, the MAC-S 28-70 HYDRO is a hydraulically-driven, slow-speed single-shaft shredder suitable for the size reduction and calibration of a wide range of materials including: plastics, bulky urban and industrial wastes, electric cables, electronic appliances (WEEE), and wood. Units are engineered for versatility and high mobility, with compact dimensions (4 m high x 4 m wide).
These 38 ton machines produce very little noise or dust, and feature high performance with low energy requirements and low operating costs, using BANO's exclusive cutting system. Rotor designs are also specific to every different application.
Additional features include a screen that selects the desired output size, as well as a hydraulic pusher for continuous and automated feeding, designed to result in a well defined, homogenous end product. Units use either diesel or electric engines.