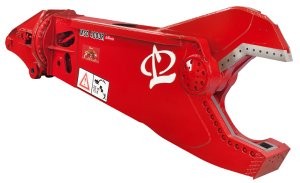 Stanley LaBounty's MSD 4000 mobile shear offers very high power to weight ratio, as well as large jaw size, fast cycle times and excellent visibility.
The MSD 4000, with an operating weight of 7,500 kg (16,600 pounds - without rotation) or 8,600 kg (18,900 pounds with rotation) is the most powerful rotating shear of its size available for use on a 100,000 pound (45 metric ton) excavator, according to Stanley LaBounty.
Units are ideal for scrap processing, demolition work, as well as for road and bridge reconstruction and jobs where torching is not feasible or possible. The MSD 4000's large jaw size (with jaw depth of 1,100 mm (43 inches) and a jaw opening of 1,020 mm ( 40 inches) supplies greater capacity and increased production.
The unit also features excellent visibility due to a narrow stick body, and its Stanley LaBounty-designed large bore cylinder is capable of 380 bar (5,500 psi). Cycle times are 9 to 12 seconds, depending on the base machine, and reach is 16 feet.