EP-REX scrap drum and REVX-E Eccentric ECS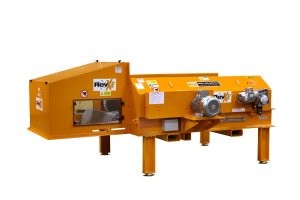 Debuted at ISRI this year, Eriez' electro-permanent EP-Rex Scrap Drum is engineered to offer greater strength than traditional electro-axial drums, bringing improved profits to scrap recycling operations.According to Eriez, large sphere-shaped ferrous (often referred to as meatballs or knuckles) are no match for the incredibly powerful EP-Rex Scrap Drum.
Much like Eriez' P-Rex technology, the EP-Rex offers advantages in critical performance areas: superior edge-to-edge separation, no 'transfer point' drop in magnetic force and no decline in performance due to heat rise.
"Eriez is setting a new standard in scrap drums," said Darrell Milton, Market Manager – Metals Recycling. "Processors' profits are no longer limited by inferior metal recovery systems. Eriez drums provide better performance and payback than ever before thought possible."
Mike Ross, Eriez' Manager, Magnet Development, said; "P-Rex opened users' eyes to the realization that a stronger and consistent strength drum provides better recovery than the traditional electro-axial drums. Then, with the recent volatility in rare earth minerals pricing, our customers requested a stronger magnet that did not require rare earth magnets as an option. With a lot of research and the help of computer finite element analysis, robotics, numeric-controlled machines and laser-guided coil winding, EP-Rex was developed."
REVX-E Eccentric ECS
Also introduced this year, the RevX-E Eccentric Eddy Current Separator (shown) is the newest offering in Eriez' extensive line of state-of-the-art Eddy Current Separators. Designed for separation of nonferrous metals, the RevX-E is ideally suited for purifying cullet and plastics, and recovered valuable metal from secondary metals and incineration ash, especially the separation of small particles.
The RevX-E features an eccentrically mounted magnetic rotor within a non-conductive larger diameter shell. This eccentric rotor concentrates its eddy current forces into a zone of separation at the end of the belt.
"By focusing its field, this design ignores ferrous material in the flow," explains Milton. "The eccentric rotor design reduces long-term wear caused by heated ferrous build-up."