Liebherr A934 HD ERC and LH 60 M scrap handlers
Latest models feature five percent production increases, reduced fuel consumption and noise levels compared to previous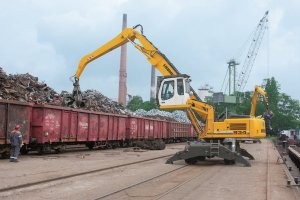 At the Institute of Scrap Recycling Industries (ISRI) 2012 Annual Expo, in Las Vegas this past April, Liebherr introduced two new material handlers; their A934 HD ERC and LH 60 M Wheeled Material Handlers.
Both new models use the patented Energy Recovery Cylinder (ERC), which is a nitrogen filled energy storage cylinder designed specifically for use on Material Handling equipment.
The cylinder works by partially compensating for the weight of the working attachment (boom, stick and load). The principle is straightforward; as the equipment is lowered, the gas in the cylinder is compressed, storing energy; as the equipment is lifted, the stored energy assists the lifting action, so that less force is required. This in turn enables the use of smaller hydraulic cylinders and reduced engine horsepower.
Both models also feature additional fuel savings and performance achieved with the newly developed "Liebherr Power Efficiency" (LPE) system. Drawing on the characteristic performance parameters of the hydraulic components and engine, LPE electronically ensures that the performance profile is adjusted to the maximum performance efficiency; at a lower engine rpm as well as reduced fuel consumption.
These two innovations, ERC and LPE combine to give the A934 HD ERC and the LH 60 M more than a five percent increase in production, 20 percent reduction in fuel consumption and a two db drop in sound levels; when compared to previous models.
Both machines also feature improved service access, steps and upper railings. The new operator's cab increases visibility, comes standard with an air suspension seat as well as air conditioning, and Touchscreen display and multi-function joysticks are also standard. Options include cab risers as well as a hydraulically adjustable cab.
Engine outputs on the A934 HD ERC and LH 60 M models are 173 hp and 241 hp respectively, weight is 94,600 pounds, and 131,400 pounds, and reach is 56 feet and 60 feet respectively. Standard grapples have a 1.4 cubic yard capacity.
Company info
Related products