Guidetti WIRE 1000 wire processing system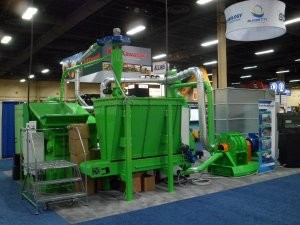 The WIRE 1000 wire processing system from Italian manufacturer Guidetti, features standard automatic feeding of material coming from a shredder, using a forced granulator equipped with three rotating blades and two stationary blades, which maximizes granulator output.
These units weigh 7,700 kg (17,000 pounds) and require approximately 7.2 m x 4.8 m of floor space (24 feet x 16 feet). Production is 450 to 725 kg/hour (1,000 to 1,600 pounds/hour), with installed power of 75 kW (100 hp) and power supply of 480 VAC, three-phase, 60 Hz.
Other standard features of the WIRE 1000 include transport and separation of granulated copper coming from rigid cables; a refining and compacting system for material remaining after first separation; pneumatic transport for refined and compacted material; a vibrating dry separator for insulation and fine copper; self-cleaning dust collection system with discharge auger; and a complete spare parts kit included. Other models are available with capacities up to 4,500 pounds per hour.