Revolution lifter adjusts for uneven terrain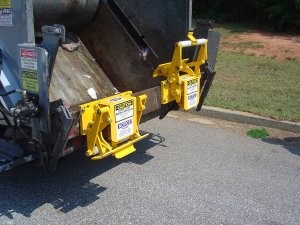 The Revolution is an advanced, modern cart lifter using a patented design that incorporates a sweeping action that automatically adjusts for uneven terrain, reducing the need for operators to lift carts onto the lift plate.
The Revolution was specifically designed to offer 22 inches of ground clearance – the most ground clearance possible for rear-load applications, according to Bayne. This feature makes it a perfect choice for applications with commercial container lift bars and provides the versatility to pick up both residential and commercial waste and recyclables on the same route.
In addition, the Revolution dumps carts higher and deeper inside the hopper opening to help prevent spillage and increase the number of route stops before cycling the packer blade.