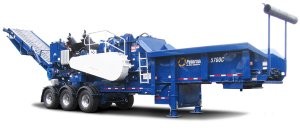 The 5700C is Peterson's latest generation of high production grinder. Units are powered by a Caterpillar C27 engine, providing 783 kW (1,050 hp), and at 35,380 kg (78,000 pounds) are designed for operations that require frequent moves between jobs without a special permit. With a feed opening of 152 x 102 mm (60 x 40 inches) combined with Peterson's high lift feed roll, the 5700C can readily reduce a wide range of material including stumps.
These grinders utilize Peterson's Impact Release System that can be set in the detent mode to provide consistent product sizing, or switched to the floating anvil mode for a primary reduction where accurate sizing is less critical. The floating anvil mode provides a high production primary reduction with more protection from contaminated feedstocks and reduced fuel consumption.
The 5700C's new generation of controls include Peterson's high production Adaptive Control System and a fully adjustable feed system that can be optimized for a wide range of materials. The new control panel provides self-diagnostics for faulty sensors and open circuits, and features a large LCD display. System pressure transducers and remote monitoring capability also simplify set up and provide complete engine and system parameters. Additionally, the 5700C features a large grate area that enables the production of materials to exact specifications. The quick-change multiple grate system makes it easy to customize grate configurations to produce a wide variety of finished materials, and grates are removed through an access door on the unit's side wall.
Another major innovation included on the 5700C is Peterson's Impact Cushion System. Urethane cushions allow movement of the compression roll/anvil housing pivot shaft, cushioning impacts due to contaminants in the feed material. Plus, shear pins above the cushion and a sensing circuit that stop the engine help protect the shaft from catastrophic damage in the event of a severe impact.
Company info
29408 Airport Rd
Eugene, OR
US, 97402

Read more
Related products
More from Organics Recycling
Single-Ram and II-Ram High-Capacity Balers
At Machinex, we've been designing sorting systems for over 35 years, so we know how essential it is for MRF operators to have a baler they can trust and not worry about its operational reliability. This is why we design and manufacture reliable single-ram and II-ram high-capacity balers to specifically help optimize their operations.
Watch the video of our expert who presents the main features of Machinex balers delivering these important benefits:
Easy & accessible maintenance
Reduced maintenance & bale handling costs
Energy savings
Optimal bale density
For C&D recyclers, waste haulers, demolition contractors and landfills, there is a growing opportunity to profit from rethinking processes. Although every operation is different, by streamlining the front end of the C&D operation processes with purpose-built technologies, recyclers can tap into new end markets, accommodate higher material volumes, stay ahead of regulatory restrictions, increase recovery rates and add commodity revenue, while decreasing labor and other costs.
Download the new eBook to learn about:
Finding opportunities in the alternative to landfilling C&D
How facilities can increase their profits from C&D
Using the right C&D processing technology in the right locations