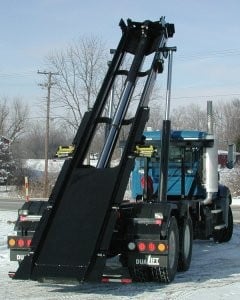 Heil's DualLift line of hoist solutions for roll-offs now includes a combination hook-lift and cable hoist, the KwikLift cable hoist, and the LowLift hoist designed for handling containers in low overhead clearance applications.
The DualLift combination hook-lift and cable hoist (shown) performs like two trucks in one to service both hook and cable containers with a single chassis. These units feature a standard 10-foot cable at the rear of the hoist and can load and unload containers faster than standard reeving operations. Units haul both standard containers and short hook containers, and accommodate roll-off container lengths of 12 to 24 feet.
The new KwikLift is engineered to cut loading and unloading time in half, compared to conventional hoists. Similar to the DualLift, increased speed and a 10-foot long cable length are achieved by the action of the traveling carriage, which is hydraulically powered to travel the entire length of the hoist. Because the cable sheave is attached to the carriage, every foot of carriage travel – either extending or retracting – produces two feet of cable movement. Plus, the carriage can pull a container far forward on the hoist.
Both KwikLift and DualLift also feature a carriage that can be cycled back and forth in a manner that produces rapid container movement to help shake loose stubborn loads.
Heil's LowLift features a hinged tail that serves as a loading platform, enabling easier and closer alignment with the container. This much lower loading height and container angle reduces clearance issues, enabling the LowLift to be used indoors and in areas with low overhead clearance.