Intercomp electronic platform scales now available wireless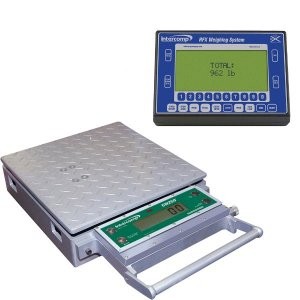 Intercomp's fully portable, electronic CW250 platform scales are now available with RFX Wireless Weighing as standard equipment. These scales are ideal for weighing hazardous medical waste, as well as 55 gallon drums, chlorine cylinders, Freon/Puron tanks, and other liquid or gaseous containers. Wireless weighing improves safety and scales can be controlled from an optional Handheld RFX Wireless Weighing Indicator.
Capacities range from 75 kg to 1,500 kg (150 to 3,000 lbs) and scales are accurate to ±0.1 percent of applied load with NTEP approved capacities from 150 to 1,000 kgs (300 to 2,000 lbs.) Scale platforms are available in two sizes;15-inch x 15-inch or 24-inch x 24-inch, both with four-inch profile. Fully battery operated, these scales require infrequent recharging from any 12V, 120V or 220V power source. Standard AA batteries last up to 300 hours in scale and up to 40 hours in the optional Handheld RFX Wireless Weighing Indicator.