Eriez aftermarket RE Drawer Magnets
Rare Earth parts prevent plugged valve gates and improve product purity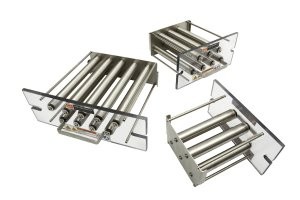 Eriez, the authority in magnetic, vibratory and inspection applications, now (2012) offers a series of Rare Earth (RE) Aftermarket Grates that simply slide into most existing drawer magnet housings. The RE Aftermarket Drawer Magnets—available in four sizes—are installed in less than five minutes and can even be used with mild steel housings because of their unique guide-rod design.
Eriez' Aftermarket RE Drawer Magnets capture and hold fine and weakly magnetic particles, preventing plugged valve gates, machine damage and equipment downtime. Eriez' RE magnets are two to four times stronger than competitive RE magnets and 50 times stronger than many ceramic magnets.
The increased use of recycled plastics, which can include metal contamination, requires molders and extruders to utilize these very high strength magnets. Reprocessed material pellets, with tiny particles of encapsulated ferrous, can be captured and held to prevent product contamination, process downtime and costly equipment/mold damage.
Other advantages of Eriez Aftermarket RE Drawer Magnets include close tube spacing for more effective ferrous removal and their ability to handle resin temperatures up to 250 degrees F., while improving separation performance and helping to keep equipment running smoothly. Adhesive backed gaskets are included for installation on the door or housing.
Eriez is recognized as world authority in advanced technology for magnetic, vibratory and inspection applications. The company's magnetic lift and separation, metal detection, x-ray, materials feeding, screening, conveying and controlling equipment have application in the plastics, rubber, process, metalworking, packaging, recycling, mining, aggregate and textile industries. Eriez manufactures and markets these products through ten international facilities located on six continents. For online users, visit www.eriez.com or send e-mail to [email protected] Eriez World Headquarters is located at 2200 Asbury Road, Erie, PA 16506.