Standard-Flow EDGE Wood Chipper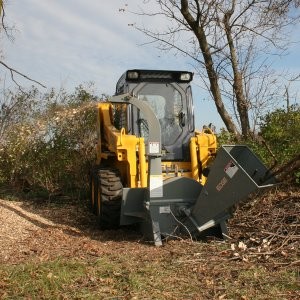 CEAttachments, Inc., a global supplier of attachments and accessories for compact equipment, announces the addition of the all new EDGE Wood Chipper attachment for skid steer loaders.
CE Attachment's new standard-flow EDGE Wood Chipper attachment turns brush, branches and leaves into perfect size chips for use as groundcover for pathways, or in flowerbeds to control weeds, retain moisture and improve composting processes. Perfect for woodlot owners, arborists and municipalities to dispose of brush and branches, this useful tool turns wood waste into a valuable resource, and operates on machines with 14-24 gpm.
The easy-to-use EDGE Chipper features a 20" x 20" self-feeding hopper opening to handle large and awkward size branches up to 4" in diameter, and angles brush against the blades as it pulls material into the chipper. Air intake vents maximize the blowing force to power the chips out of the chute up to 20'.
The 25" rotor features 2 hardened-steel, reversible chipping blades placed at 180 degrees to each other to keep the rotor in balance. The blades work together to cut, shear and shred the wood as it moves through the machine, rotating 1,000 rpm at 24 gpm.
Other features include a twig breaker to sever twigs and other long material as it moves through the rotor compartment. The 65" discharge chute rotates 360 degrees and features an adjustable deflector for accurate placement of wood chips. Plus, the hopper on the EDGE Chipper folds up, making it compact and easy to travel on narrow trails, through woods, for transport and storage.
See the new standard-flow EDGE Wood Chipper attachment, along with many other wood handling attachments and accessories at www.ceattachments.com, or call company attachment experts toll free at 866-232-8224.
CEAttachments is a full service international wholesale distributor of attachments and accessories for all brands and models of compact equipment including skid steer loaders, compact excavators and compact utility tractors.