R700S mobile impact crusher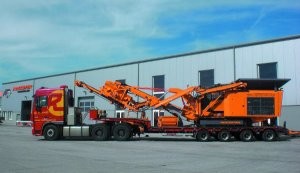 The R700S Impact Crusher is engineered to combine optimal measures of compact plants with the technical finesse usually only found on bigger plants. Units are designed to meet the rising demand for a compact plant with low weight, optimal transport dimensions and high levels of performance.
Through its compact construction (9 m long, 2.4 m wide, and 3 m high) and low weight of 19.9 tons, the R700S plant is easy to transport and move from one jobsite to another. On the jobsite, these mobile crushers are flexible and ideal for applications in small space areas such as on inner city jobsites.
The hydrostatic drive on the Rockster R700S does not wear compared to clutch systems, and allows an infinite adjustment of the crusher speed and therefore guarantees optimal final grain quality. These units also provide performance up to 140 tons/hour with an inlet opening of 710 x 650 mm, and are also equipped with several technical improvements over previous models, including an enforced rotor and flipped wear plates, which are easily exchangeable. Plus, the adjustment of the swing beams is now more effective due to the use of an elevating screw instead of the usual distance plates, which enables an infinite gap adjustment. An optional Rockster screening system – consisting of a screenbox RS73 and a return belt RB65 – makes the R700S a complete package for the production of high quality grain in one workflow, even in very tight work areas. Additionally, like the whole product range of Rockster crushing plants, the R700S is equipped with large-scale covers which allow an optimal accessibility for service and maintenance and ensure the optimal ventilation of the drive-unit and the cooler.