Fabric buildings use rigid frame, structural steel beams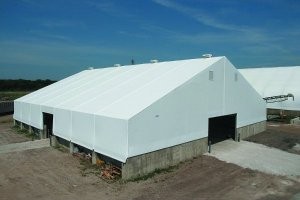 According to Legacy, their new Legendary series is the industry's first line of tension fabric buildings to incorporate structural steel beams instead of open web trusses. This engineering concept provides a high level of flexibility and durability for applications such as recycling and waste, commodity storage, and other commercial and industrial applications.
Legacy buildings utilize a durable rigid frame in place of the hollow-tube, open web truss framing traditionally used for fabric buildings. Unlike hollow tube steel, Legacy's solid structural steel beams are not vulnerable to unseen corrosion originating inside a tube. Additionally, the structural steel has multiple coating options, including hot dip galvanizing, red oxide primer and powder coat paint.
According to Legacy, the strength of the structural steel frame provides several engineering advantages, most notably the flexibility to customize buildings beyond the confines of standard sizes to the exact width, length and height required. The design allows for much wider doors than possible with web truss, and adding side doors is simple. Structures can be modified to provide desired eave extensions and interior columns, and can be engineered to handle additional loads for conveyors and sprinklers, and even commodity loads on the sidewalls.
Legacy buildings feature high-quality polyethylene fabric roofs and a wide variety of PVC fabrics are available. Plus, the durable fabric allows natural light to permeate the structure and insulation can be added. Legacy says installation is faster than with conventional buildings, and their design can be adjusted for stationary or portable applications. Sidewalls can also be customized and built with any desired material, and then easily lined with fabric.