2100-SE Stationary Electric Material Handler upgraded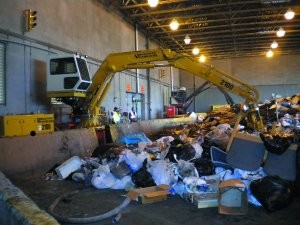 In 2011, Northshore Manufacturing announced enhancements to its Builtrite model 2100-SE Stationary Electric Material Handlers. Enhancements include a more energy efficient, 75-hp electric motor, a new cab featuring better visibility and more room, a more powerful heater and air conditioning system, as well as a modular power unit capable of being machine mounted or floor mounted, depending upon the application and customer preference. New, large access doors also allow for excellent accessibility. Plus, a threefold increase in hydraulic oil cooling capability, using a 20-hp motor, allows these units to work more efficiently in hotter climates and reduces premature cylinder seal, gasket, hose and other rubber component wear.
The 2100-SE is designed for extreme versatility in a number of material handling applications, including municipal solid waste, both loading and tamping applications, and scrap and wood handling. A wide range of options are available for the 2100-SE including various boom configurations, allowing it to handle hanging or wristing type attachments, boom lengths, cab risers, catwalks, remote operator's station, and remote power unit placement. According to Northshore, operation costs with these units can be up to 60 percent less than diesel powered machines, maintenance and downtime are decreased, and operation is quieter and without exhaust gases.
Company info
Related products