Recyclable modular screening media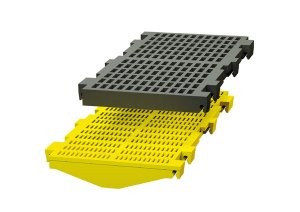 In 2011, Metso announced the development of the first fully recyclable modular screening media – Metso Trellex LS-Eco.
Metso took the company's Trellex LS rubber modular screening media systems and replaced the traditional steel reinforcement with an environmentally-friendly composite material. According to the company, this makes it possible to effectively recycle the screening media.
In the past, Metso says, screening media modules which were no longer suitable for production were treated as waste and could not be recycled. In addition to providing environmentally-friendly screening media panels, Metso has also announced they will be implementing a unique program to provide customers with a suitable range of recycling services.
The Metso Trellex LS-Eco offers a wide range of health, safety and environmental benefits. Each screening media panel is up to 40 percent lighter than standard steel reinforced Trellex LS panels. This makes handling easier and the working environment safer. Lighter panels also help to reduce the overall stress on the entire screening installation. Compared to steel-reinforced panels, the composite-reinforced panels of the Metso Trellex LS-Eco are also more flexible and will reduce the effects of pegging and blinding during screening operations.
Trellex 300LS and Trellex 305LS rubber and polyurethane panels can be attached to most screening media systems and handle all types of screening applications – fine and coarse, wet and dry.
Metso says Trellex LS-Eco, 305 x 610, is scheduled to be available in selected markets in Q4, 2011, and other dimensions will be available in 2012.
Company info
Related products